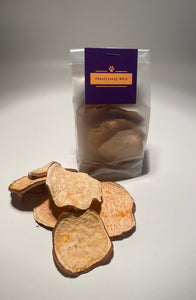 Looking for a new way to treat your best friend? Your pup will love the sweet and savory flavor of dehydrated Sweet Potato Dog Treats from Brutus & Barnaby. Irresistibly tough, thick cuts of sweet potato are the paw-fect treat to reward your pal for a job well done, or just because! Tear them into smaller pieces for smaller dogs and break them up to use as training treats—however you serve them, dogs of all shapes and sizes will love sinking their teeth into thick pieces of sweet potato. These tough bites will make your pal slow down and savor each bite because of their tough, chewy texture. Snacks like these aren't meant to be gobbled—they're meant to be relished! Plus, you'll love that your pal is enjoying a treat that's high in fiber, rich in antioxidants and made without grains or gluten. 
Key Benefits
Rich in antioxidants and vitamins to provide the nutrition your dog needs without supplements.
Thickly cut treats occupy your dog's time and exercise small jaws, while tearable texture allows you to rip pieces for smaller dogs or training sessions.
Made with zero fat and no added sugar, so there's no guilt when treating your pal.
Fiber provided by natural potato skins helps balance blood sugar levels.
Grain- and gluten-free treats are easier to digest and single-ingredient treats are excellent for pups with allergies to other things.
Bag Size 
2oz bag - 15 pieces on average